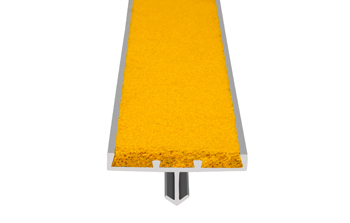 (Type 24 Series)
The State of California stripping code for the visually impaired calls for all stair treads to have an anti-slip strip of contrasting color 2 inches wide, parallel to and not more than 1 inch from the front nose of each step.
Our TYPE 24 safety strip meets all the requirements of California Title 24. It is available with extruded anchor for poured stairs and with holes for anchoring into wood or stone.
Specify American Safety Tread TYPE 24 to meet the California code.